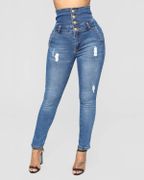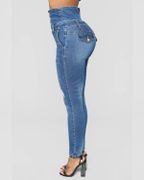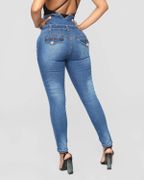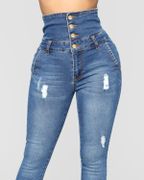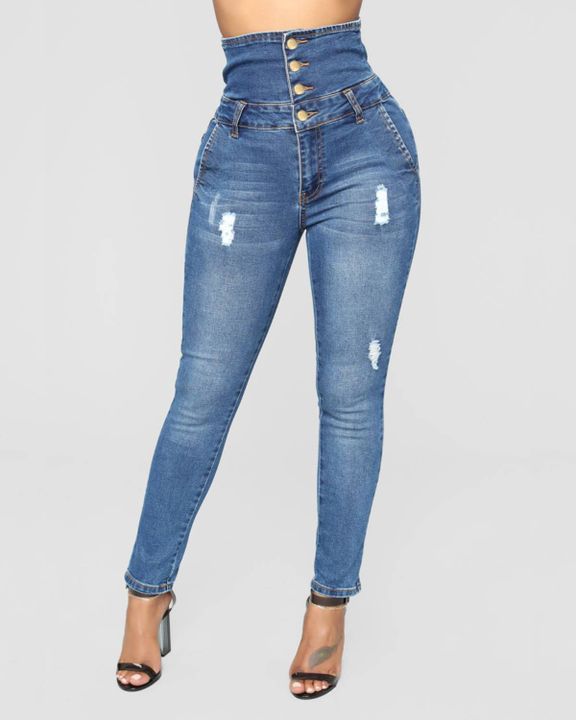 Single-breasted High Waist Elastic Skinny Jeans
(16)
Return Policy
PRODUCT DETAILS
Available in XS S M L XL
Available in Blue
High Rise
Button and Zipper Closure
4 Pockets
Distressed
Cotton Spandex
Disclaimer: Due To The Specialized Wash & Distressing Process, Each Garment Is Unique.

Reviews (16)
When I received them, I thought they might be too small but they fit perfect! The length is great - not too long and not too short. The stretch is great but not too tight. They're very comfortable and don't bag out after wearing. The waist height is good too. The material is substantial but not too stiff. Perfect pant for work or play and can be dressed up or down.
The fabric is just the right amount of stretch and is very soft. The size is exactly as expected. I'm short and I like the unfinished hem because I will cut to make shorter. Super comfy too. They don't stretch out and look sloppy after wearing them all day. Cute!
If you are looking for a nice relaxed fit these are for you! They are snug in all the right places and are comfortable. They are constructed really well. Doesn't get stretched out at the end of the day. Good fit around the waist. I have longer legs and these were a perfect fit.
I've always had problems shopping for jeans, which is why I lean heavily on stretchy or athletic pants. I'm thin, but my backside and thighs are not. But these are the ones! These are the jeans. They just fit me right. Any woman with a multi-size body knows how jeans get saggy throughout the day, right? From stretching to accommodate the thicker body parts? These don't do that. They stay fit all day. Ladies you know what I'm talking about. Try em!